Bacteriological Pipette 10ml Sterile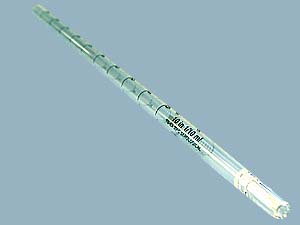 Bacteriological Pipette 10ml Sterile
Product Name
Qty (1-3)
Qty (4-9)
Qty (10+)
Bacteriological Pipette 10ml Sterile
SAR-861688010
$283.42
$255.08
$240.91
500 units per case.

High quality serological pipettes from 1 to 25 ml are available for a range of applications.

Manufactured from clear polystyrene, these sterile, individually wrapped pipettes are certified non-pyrogic for maximum safety in use. They are supplied in clear, micro particle- and static-free paper/plastic packaging for easy identification and tear through. Alternatively, pipettes are available sterile with 25 pieces in a bag.

All pipettes are also available with:

- ascending and descending graduations to accommodate most dispensing requirements,
- colour coding according to ISO standard for easy identification by size,
- cotton wool plugs to reduce chance of aspirating liquid into the pipettor, and
- negative graduations for extended pipette volumes.

The new 25 ml pipette has special orienting lugs on the mouthpiece to ensure a secure fit to most pipetting devices.

For use with vacuum pumps, an individually wrapped 2 ml aspiration pipette is available without a cotton wool plug. This pipette is also available non-pyrogenic.
---
Customers Also Bought