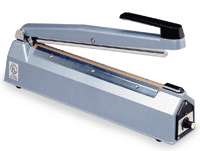 Bag Sealer
Product Name
Qty (1-3)
Qty (4-9)
Qty (10+)
Size: 203mm (8")
HS-28264
$196.84
$177.16
$167.31
Size: 305mm (12")
HS-28265
$320.83
$288.75
$272.71
Seal polyethylene or polypropylene bags, sheets, or flat tubing up to 5 mil thick. Timing knob ensures safe sealing. Simply turn knob to set time, press handle down on plastic, and remove when light indicates cycle is complete. Heating element is hot only when sealing. Includes 6 ft cord for 115 VAC.
203 mm sealer measures 370 x 82 x 180 mm
305 mm sealer measures 440 x 85 x 180 mm.
---
Customers Also Bought