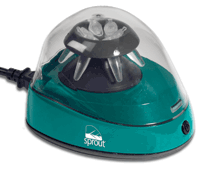 SPROUT™ Mini-Centrifuge
Product Name
Qty (1-3)
Qty (4-9)
Qty (10+)
Sprout, 110/120 VAC: US
HS-1000AU
$362.48
$326.23
$308.11
Sprout, 220/230 VAC: Australia
HS-1000BA
$362.48
$326.23
$308.11
Sprout, 220/230 VAC: Contenental Europe
HS-1000BC
$362.48
$326.23
$308.11
Sprout, 220/230 VAC: U.K.
HS-1000BU
$362.48
$326.23
$308.11
Sprout, 110/120 Vac: US PINK
HS-1000AZUBC
$362.48
$326.23
$308.11
Replacement Nose Cone: PP Dark Blue
HS-1000RFRR
$23.75
$21.38
$20.19
SPROUT replacement 'O' Ring:
HS-1000RG
$1.22
$1.10
$1.04
Easy-to-use dual start/stop functions—control starting and stopping with power button or by opening and closing the lid
Rubber footplate keeps unit stable and deadens vibration
Smooth, durable ABS finish is easy to clean
This compact mini-centrifuge is ideal for quick spin-downs from tube walls and caps. Use to microfilter cell separations and HPLC samples. Most spins last around 20 seconds, so Sprout is designed for easy repeat opening. Ergonomically designed lid allows for one-handed operation.
Operation is extremely simple: load tubes, close lid, and press on/off button. For repeated spins, simply open/close lid to operate mini-centrifuge. As a safety feature, the motor will not operate if the lid is open.
This personal centrifuge uses minimal benchtop space. Remove cord for compact storage. Includes three rotors: two glass-filled polycarbonate circular rotors and one polycarbonate strip tube rotor. Unit is ETL, cETL, and CE marked.
Sprout Includes:
Three interchangeable rotors cover all applications—Sprout comes with the circular, one-size (1.5-mL) tube rotor attached. Use the included allen wrench to easily switch to the strip tube rotor or circular, dual-size (1.5- and 0.5-mL) tube rotor.
Storage Case—Safely store extra rotors and adapters when not in use. Padded foam case can be left on benchtop or stored in drawer. Keeps rotors safe while conveniently on hand.
Tube Rack—Move 2.0-, 1.5-, 0.5-, 0.4-, and 0.2-mL microcentrifuge tubes from station to station. Keep tubes organized in hand-held foam rack.
SPECIFICATIONS
Maximum Speed: 6,000 rpm
Maximum RCF: 2000 x g
Tubes Accommodated: Circular, one-size rotor: six 1.5- and 2.0-mL tubes or use with adapters to spin six 0.4- and 0.5-mL tubes
Circular, dual-size rotor: Three 0.4- and 0.5-mL tubes and three 1.5 - and 2.0-mL tubes
Strip rotor: Two 8 x 0.2-mL PCR tube strips or 16 individual 0.2-mL PCR tubes
Rotor material: Circular, one-size and dual-size rotor: glass-filled polycarbonate
Strip rotor: polycarbonate
Dimensions: 153 x 128 x 104mm