PVDF-Plus .2um 30cm X 3m Roll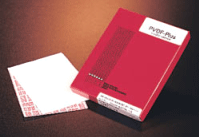 PVDF-Plus .2um 30cm X 3m Roll
Product Name
Qty (1-3)
Qty (4-9)
Qty (10+)
PVDF-Plus .2um 30cm X 3m Roll
MS-PV2HY00010
$300.71
$270.64
$255.60
PVDF-Plusis a naturally hydrophobic, unsupported polyvinylidene fluoride transfer membrane designed, manufactured and tested by GE Osmonics to deliver the highest binding capacity combined with low backgrounds in western transfer, amino acid analysis and protein sequencing applications. Exceptional quality control procedures throughout the manufacturing process eliminates "lot-to-lot" variation and greatly minimizes "bald spot" problems. PVDF assures reproducible results with maximum sensitivity.
Protein can be electroblotted from a variety of gel matrices onto GE PVDF. Because of its high sensitivity and strong binding affinity, protein will not pass through the membrane. The broad chemical compatibility of GE PVDF allows the use of all commonly used stains such as: Amido Black, Colloidal Gold, Coomassie Blue, India Ink and Ponceau-S. GE PVDF will not degrade, distort or shrink when using high concentrations of methanol for destaining. The exceptional tensile strength allows for multiple reprobings and easy removal of target bands without concern for the membrane tearing, fracturing or curling.
PVDF-Plus exhibits efficient transfer of proteins in a wide range of molecular weights, from 5k Daltons to 700k Daltons. The binding capacity averages 125 µg/cm² for larger globular proteins such as immunoglobulins and higher binding capacities for small peptides.
---
Customers Also Bought