24 Well Amplate Flex Plates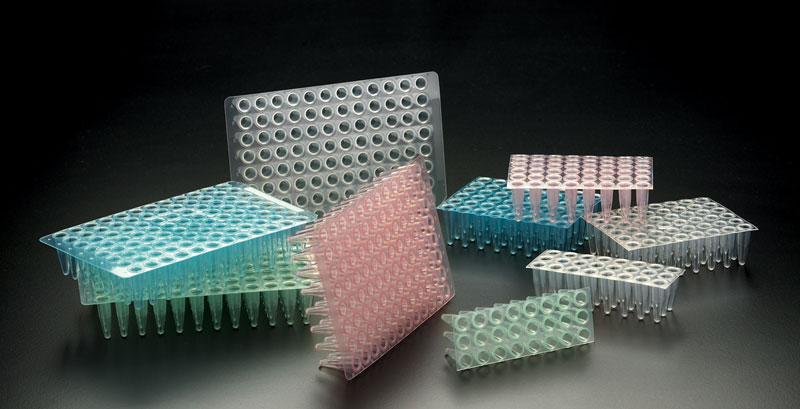 24 Well Amplate Flex Plates
Product Name
Qty (1-3)
Qty (4-9)
Qty (10+)
Color: 24 Well Blue
SIM-T323-24B
$41.01
$36.91
$34.86
Color: 24 Well Green
SIM-T323-24G
$41.01
$36.91
$34.86
Color: 24 Well Natural
SIM-T323-24N
$41.01
$36.91
$34.86
Color: 24 Well Red
SIM-T323-24R
$41.01
$36.91
$34.86
Color: 24 Well Yellow
SIM-T323-24Y
$41.01
$36.91
$34.86
Made of polypropylene
These 96-well PCR plates are thin-walled and designed for rapid thermal transfer. Each well has a capacity of 0.2 ml. They are precision-molded to ensure well-to-well and plate-to-plate uniformity. The insides of the tubes are smooth and have an inert surface on which enzymes and nucleic acids do not bind.
All sealing methods can be used for oil-free operation:
SecureSeal™ Thermal sealing film and foil (SIM-T329 Series), and Amplate™ Mat (SIM-T329-10). Suitable to be used with all 96-well shaped cyclers such as Ericomp Twinblock, Perkin-Elmer 9600, Mj Research 100/200 96V etc... Their flexible design allows them to be easily cut into sections of 24, 32 or 48 tubes.
The plates will accommodate differences in expansion coefficients between the metal thermal cycler block and polypropylene tubes. For more convenience, pre-cut plates are also available in the following formats: 48 tubes (6 x 8) and 24 tubes (3 x 8).
On the 96-well plate, an alphanumeric grid helps sample identification. To facilitate orientation, the bottom right corner of the plate is cut away. The AMPLATE™ is easy to seal since no cylindrical walls extend above the plate. More economical than using single tubes, it is available colorless and in four different colors. Autoclavable. Packed in tamperproof resealable bags of 10 plates.

• Alphanumeric grid for better identification
• Flexible plate for better fitting of tubes in thermal block
• Can be cut to desired format
• Corner is cut away to facilitate orientation of plate
• Inside of tube is smooth and has an inert surface
---
Customers Also Bought