Cover Glass 22x40 #1 1oz 10/Box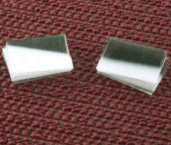 Cover Glass 22x40 #1 1oz 10/Box
Product Name
Qty (1-3)
Qty (4-9)
Qty (10+)
Cover Glass 22x40 #1 1oz 10/Box
ND-10-2240
$28.72
$25.85
$24.41
Cover Glasses - Superior Quality
Rectangles # 1 Thickness .13-.17mm

Made of finest optical glass, with uniform thickness and size. Uniformly flat. Wont stick together. Free from bubbles, scratches and striations. Corrosion resistant. Packed in 1oz. plastic boxes with custom-molded bases for easy one-at-a-time dispensing. Pre-cleaned, lint-free and ready to use.

---
Customers Also Bought