4.5ml Pipet 6in All Narrow Diameter 500/Case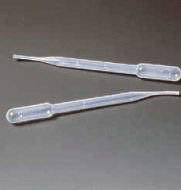 4.5ml Pipet 6in All Narrow Diameter 500/Case
Product Name
Qty (1-3)
Qty (4-9)
Qty (10+)
4.5ml Pipet 6in All Narrow Diameter 500/Case
GS-44
$29.65
$26.69
$25.20
Disposable Transfer Pipets

These sterile and non-sterile unbreakable all-in-one pipets eliminate the hazard of broken glass and exposure to infectious materials. Put an end to matching rubber bulbs with glass pipets. Molded from transparent low-density polyethylene. Inert to biological fluids and most acids. The low-affinity surface reduces the loss of cells and valuable proteins due to binding. Non-sterile packaged 500 per case and Sterile packaged 400/per case.
Transfer pipets, narrow stem, non-sterile.
4.5mL capacity.
155mm long.
25 drops/mL.

---
Customers Also Bought