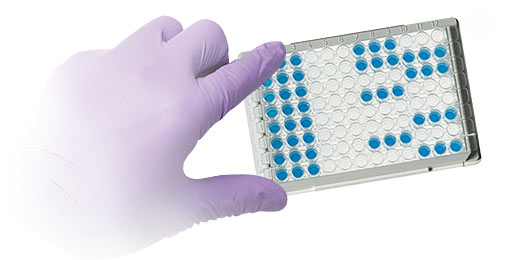 Estradiol (E2) ELISA
Product Name
Qty (1-3)
Qty (4-9)
Qty (10+)
Estradiol (E2) ELISA
DA-2046Z
$370.28
$333.25
$314.74
Enzyme Immunoassay for the Quantitative Determination of Estradiol (E2) Concentration in
Human Serum or Plasma
STORAGE OF TEST KIT AND INSTRUMENTATION
Unopened test kits should be stored at 2-8°C upon receipt and the microtiter plate should be kept in a sealed bag with desiccants to minimize exposure to damp air. Opened test kits will remain stable until the expiration date shown, provided it is stored as described above. A microtiter plate reader with a bandwidth of 10 nm or less and an optical density range of 0-3 O.D. at 450 nm wavelength is acceptable for use in absorbance measurement.
Test: Estradiol (E2) ELISA
Method: ELISA: Enzyme Linked Immunosorbent Assay
Principle: Indirect: Antigen Coated
Detection Range: 0-1000 pg/ml
Sample: 25ul serum
Specificity: 100%
Sensitivity: 10pg/ml
Total Time: ~ 110 min
Shelf Life: 12-14 months
Materials provided with the kit:
• Goat Anti-Rabbit IgG-coated microtiter wells, 96 wells
• Estradiol Reference Standards: 0, 10, 30, 100, 300, and 1000 pg/ml. Liquid, 0.5 ml each, ready to
use.
• Rabbit Anti-Estradiol Reagent (pink color), 7 ml
• Estradiol-HRP Conjugate Reagent (blue color), 12 ml
• Estradiol Control 1, Liquid, 0.5 ml, Ready to use.
• Estradiol Control 2, Liquid, 0.5 ml, Ready to use.
• TMB Reagent (One-Step), 11 ml.
• Stop Solution (1N HCl), 11 ml.
Materials required but not provided:
• Precision pipettes: 25 μl , 50 μl, 100 μl, 200 μl, and 1.0 ml.
• Disposable pipette tips.
• Distilled and deionized water.
• Vortex mixer or equivalent.
• Absorbent paper or paper towel.
• Linear-linear graph paper.
• Microtiter plate reader.