Incu-Shaker 10L Shaking Incubator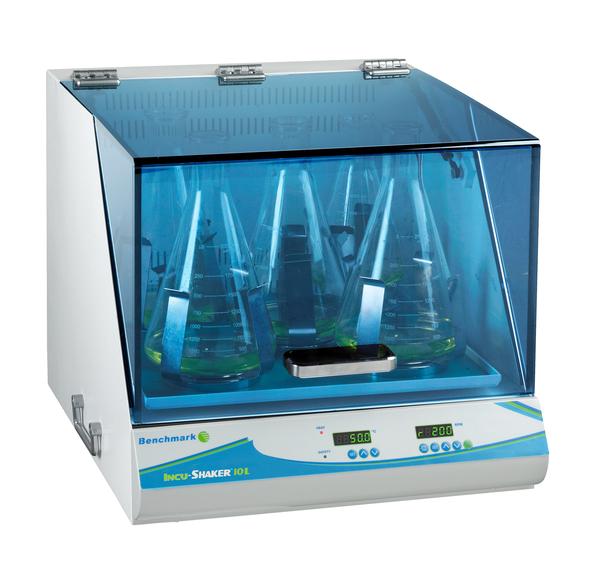 Incu-Shaker 10L Shaking Incubator
Product Name
Qty (1-3)
Qty (4-9)
Qty (10+)
Type: 115V (US)
BM-H1010
$6,000.78
$5,400.70
$5,100.66
Type: 230V (EU)
BM-H1010-E
$6,000.78
$5,400.70
$5,100.66
The INCU-SHAKER10L is a heavy-duty performer, designed for heavy workloads and continuous use. Its outstanding temperature accuracy and uniformity are supported by proprietary heat distribution technology that ensures that temperatures are precisely maintained throughout the chamber. Inconsistencies due to stratification are reduced to negligible levels and the selected temperature is precisely maintained within 0.25%, even in the corners. The powerful brushless induction drive is designed for years of trouble-free service, even under continuous use conditions with heavy loads. Noise and vibration are minimized by an advanced, computer designed motor isolation system. Like other Incu-Shaker models, the 10L is built to last.
The standard platform (included) features a non-slip, rubber coated surface, ideal for tissue culture flasks, petri dishes, and staining trays. The convenient MAGIC CLAMPplatform is also available for use with Erlenmeyer flasks and test tube racks. The unique, magnetic attachment method is the easiest way to instantly change between flask clamps of different sizes.
Temperature, shaking speed, and run time are displayed on the large LED control panel located on the front of the unit. The integral microprocessor includes a constant monitoring system that verifies and maintains accuracy through the duration of the program. Sophisticated over-temperature and over-speed controls ensure long life, safety, and sample integrity.
• Exceptional temperature uniformity
• Mini is extremely compact, just 11" wide
• 10L High capacity, up to 5 x 2L and optional shelf for petri-dishes, plates, trays, etc.
• Exchange flask clamps in 1 second with the new MAGIC CLAMPmagnetic system
• 1-year warranty
Click here for accessories for this product.